To all First Mt. Juliet students, families, leaders, and guests,
We know we are all still walking through strange and uncertain times. This past year has not been anything like what we expected or planned for. Our church facilities were hit by the tornado, we are still in the midst of the pandemic, and there will be long-term difficulties in handling both circumstances. Our greatest hope and prayer is that God would receive all the glory in and through all of these circumstances. He is always at work, even when we don't see it or feel it. While He is working all things together (Romans 8:28), we have some privileges and responsibilities as His children. Hebrews 10:22-24 encourages us to do a few things: (1) draw near to God (v.22), (2) hold on to hope (v.23), and (3) encourage one another by spurring each other on and continuing to meet together (v.24).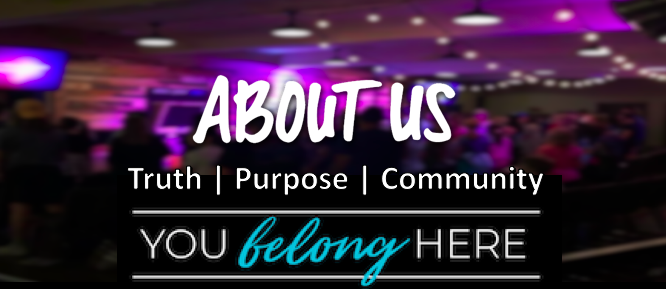 Every student ministry has a particular vision and philosophy that shapes its direction and determines its healthiness. We believe that a healthy student ministry is a ministry that helps students become adults who will, for a lifetime, love Jesus, live for the glory of God, and make an eternal impact on the world.
We believe this can happen when students (1) recognize that God's Word is our authority, (2) live life on mission for Jesus, and (3) understand the importance of the local church. To sum it up, we want to lead students to have complete ownership of their faith - understanding truth, living life with purpose, and being grounded in a faith community. We strive to filter all we do through these three lenses of Truth, Purpose, and Community.
Every week, we give students three tangible challenges: show up, invite, and pray big. SHOW UP: We believe it's critical for students to be present, active, and involved in the student ministry. If they're not here, they are missing out on the relationships and Biblical teaching that is fundamental to their faith. INVITE: Students have an incredible mission field at their schools, on their teams, and in their neighborhoods. We challenge students to invite their friends that are lost and unchurched so that they can hear the gospel and come to salvation. PRAY BIG: Nothing great ever happens without prayer, and we want students to see that first hand. We believe students are never too young to ask God to do incredible things in and among them.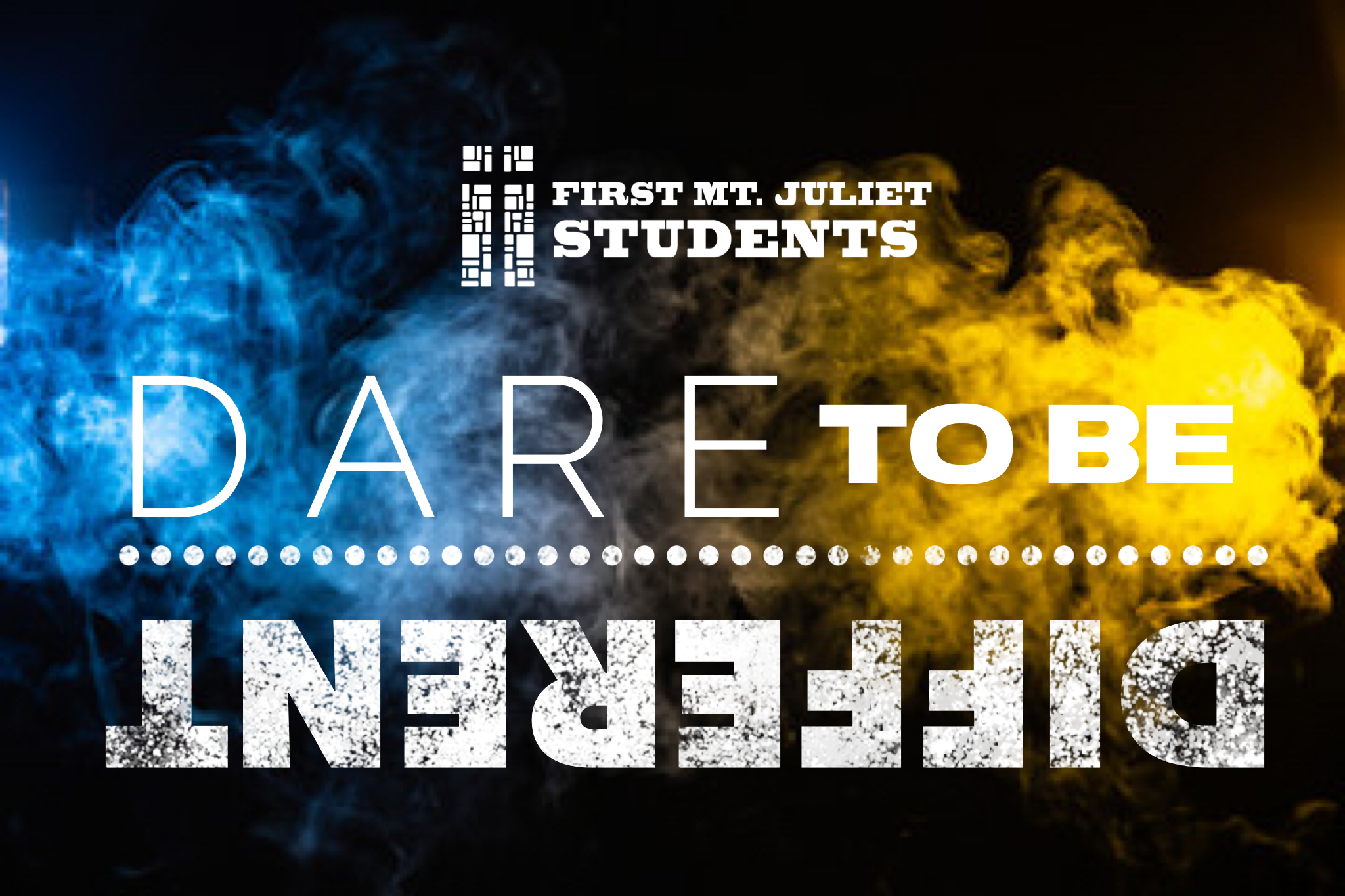 Each year, we send our students into a new school year with a "theme." This school year, our theme is "Dare to Be Different." We desire to see our students thrive rather than merely survive. The world encourages students to compromise their beliefs and godly convictions. This enticement can easily seem attractive because it's easer and feels more safe to blend in rather than stand out. We believe that God desires and expects more out of students. Wherever they are in life, whether it's in the public school system, a private school system, or homeschooled, they are not there by accident. Whatever activities they may be involved in, they don't have the interest and abilities for those activities by chance. God has uniquely gifted and strategically placed them where they are for a purpose. Students do not have to wait until they become an adult to make a Kingdom impact on the world. God desires to use them to make a Kingdom impact on the world right now! By challenging them to "dare to be different" this year, we are challenging them to not settle for the status quo, not to live out their faith quietly or fearfully, but to make the greatest Kingdom impact in their world that they possibly can. We believe that God can use students to spark the spiritual awakening that our world desperately needs!
Summer Midweek Plans
Summer Midweek is one of our favorite times each week! Every Wednesday night we have "Midweek," which is our Student Ministry large group gathering. Our Midweek plans for the summer are as follows:
We will have Summer Midweek every Wednesday night from 6:00-8:00pm.

We will gather together in different locations each week.

Every week, a different leader will share their testimony as a word of encouragement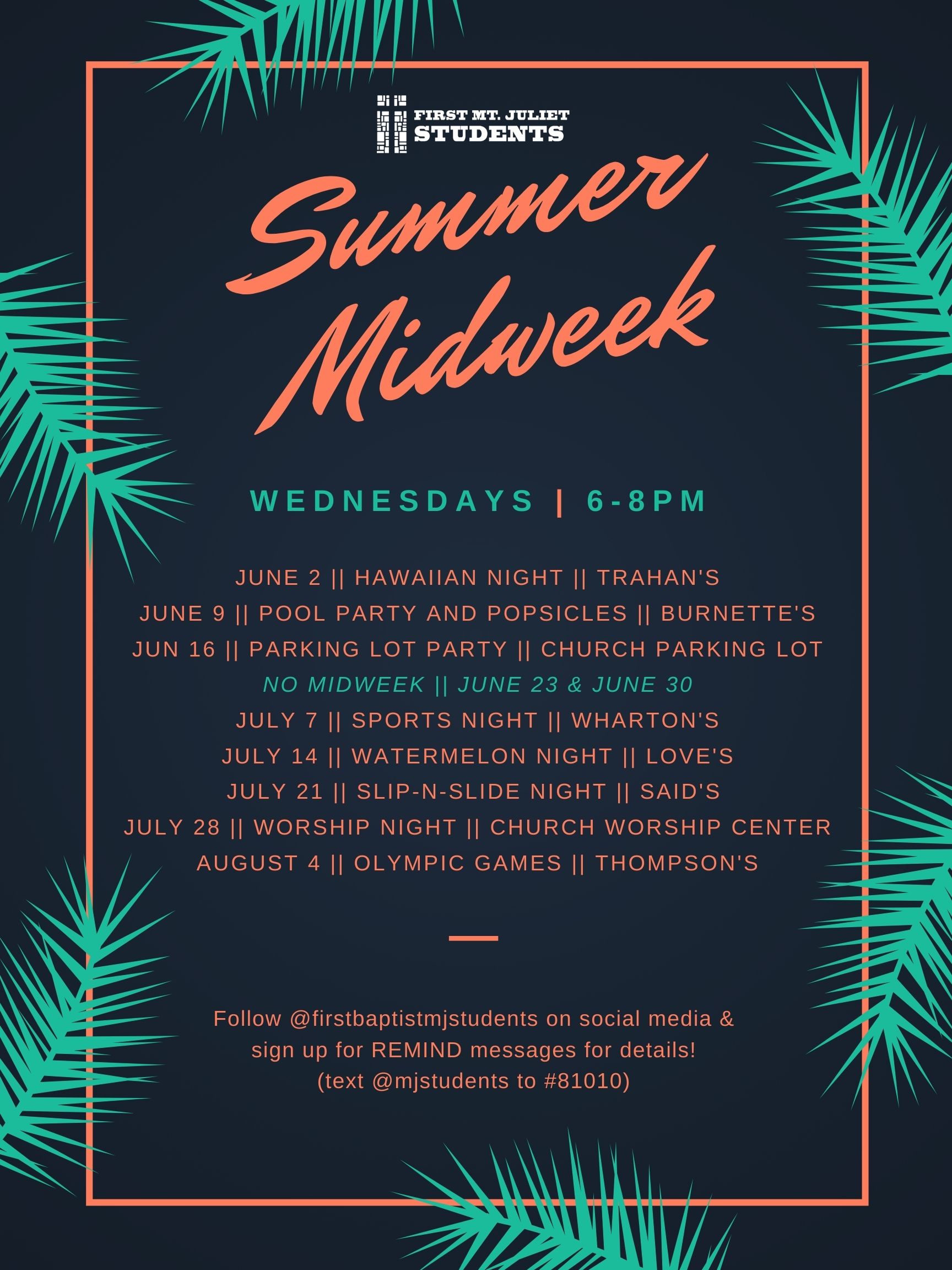 Small Group Plans
Due to the damage to our campus from the tornado, we have to be creative and flexible with our small group spaces while we rebuild. Student Ministry Small Groups meet every Sunday morning during the 9:30am service hour in the modular/learning annex at the back of our campus.
Students can be dropped off down at the modular, families are welcome to park closer to the modulars, and there is also a church bus or golf cart shuttle that will pick up in front of the Kids Building and drop everyone off at the modulars. After the 9:30am small group hour, we encourage everyone to join us for the 11am worship service in the Worship Center.
This year, our Small Group curriculum is from LeaderTreks. All middle school students will go through curriculum called "Gear Up: Fortify Your Faith." All of our High School Students will go through curriculum called "Pursuit: Beyond Routine to Relationship."
If you or your student need help getting involved in a Small Group, please contact us at .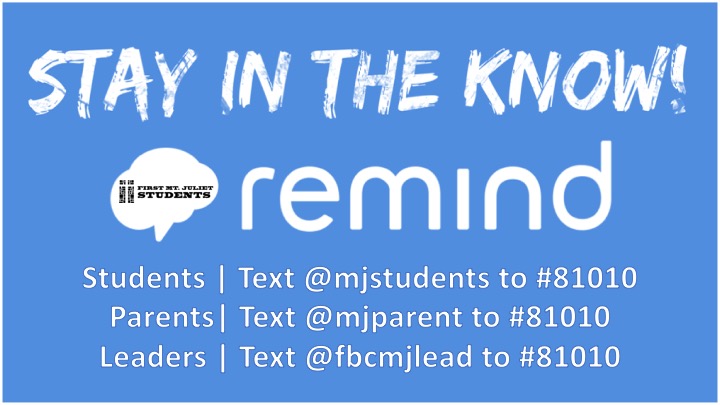 How to Stay Connected
Check out the sidebar that says "Stay Connected!" We have made quick links to all of our social media sites, our email list, and more. See the graphic above and join our Remind message group! If you are not already connected with us in these ways, please do so now, as these are the ways we are communicating the most up-to-date information.