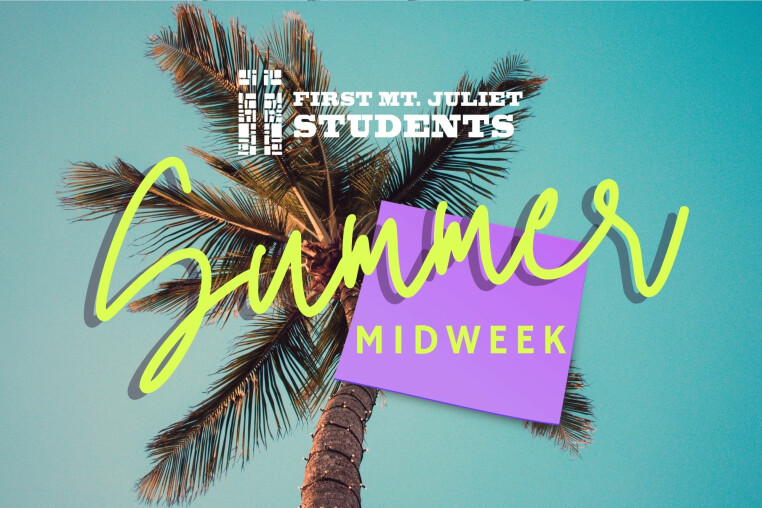 Join us from 6-8pm for Summer Midweek on Wednesdays this summer! Each week we will meet at a different home in the area for fun and fellowship together. We will have different theme nights, activities (such as slip-n-slide and pool party), games, and more! There's something for everyone, so even if you aren't into the games or theme of the week, we would love to have you join us! Summer Midweek is for students who have completed 6-12th grade - friends and guests are invited! *Food will not be provided during Summer Midweek unless otherwise noted.
For more information about Summer Midweek follow @firstbaptistmjstudents on social media and sign up for REMIND messages: text @mjstudents to #81010!
June 8
||
BONFIRE Night
||
carlton and jonelle
CAPPS' home
767 VANDERBILT ROAD, MT. JULIET, TN 37122
Join us for the FIRST Summer Midweek of the summer at the Capps' home for yard games and Bonfire night!
June 15
||
Wiffle Ball Night
||
David and Kristin Love's home
1106 SOMERSET DR, LEBANON, TN 37090
This backyard has a real baseball diamond for us to play some epic team games like wiffle ball, kickball, and more. Wear your favorite jersey.
June 22
||
Nuke 'em night
||
charles and diane uplinger's home
3131 HOLLOWAY ROAD, LEBANON, TN 37090
Join us for an awesome Nuke 'Em Tournament. Bring your squad!
June 29
||
NO Summer Midweek while we are at summer camp!
July 6
||
game Night
||
hunter and whitney wharton's home
601 HILLVIEW DRIVE, MT. JULIET, TN 37122
Yard games, team games, board games, card games...GAMES, GAMES, GAMES!
July 13
||
slip-n-slide Night
||
jason and barbara said's home
383 GUILL ROAD, MT. JULIET, TN 37122
The most EPIC slip-n-slide you've ever experienced!
July 20

||

pool party

||

jason and deann lee's home
2509 BALMORAL DRIVE, MT. JULIET, TN 37122
In the middle of July, what more could you want but a Pool Party?!
july 27

||

scavenger hunt

||

church campus
735 NORTH MT. JULIET ROAD, MT. JULIET, TN 37122
Bring your squad and your skills - you'll need both for this scavenger hunt!
august 3

||

hawaiian night

||

ron and vickie trahan's home
410 BETH DRIVE, MT. JULIET, TN 37122
We'll finish the summer strong with a Hawaiian luau!