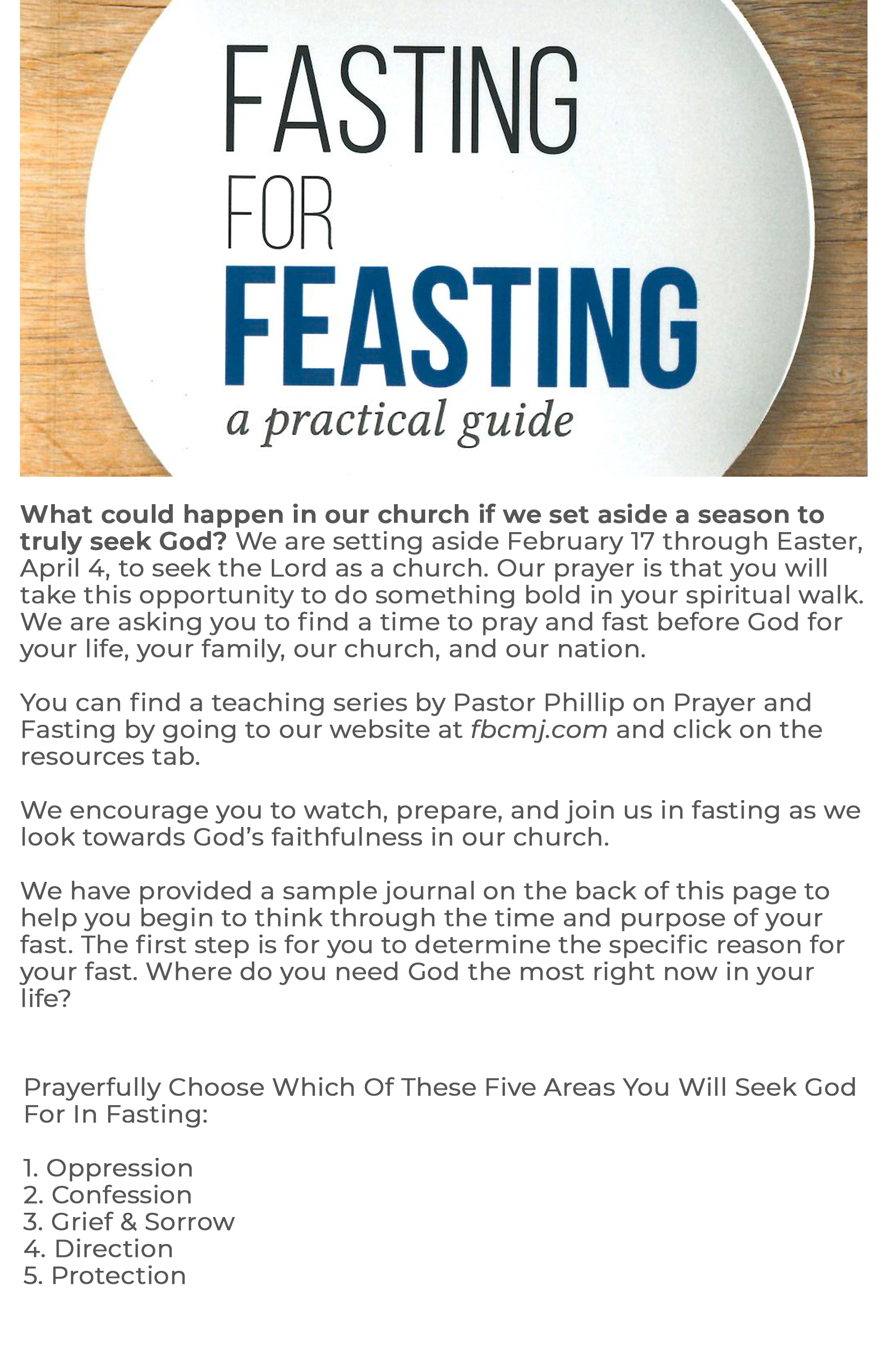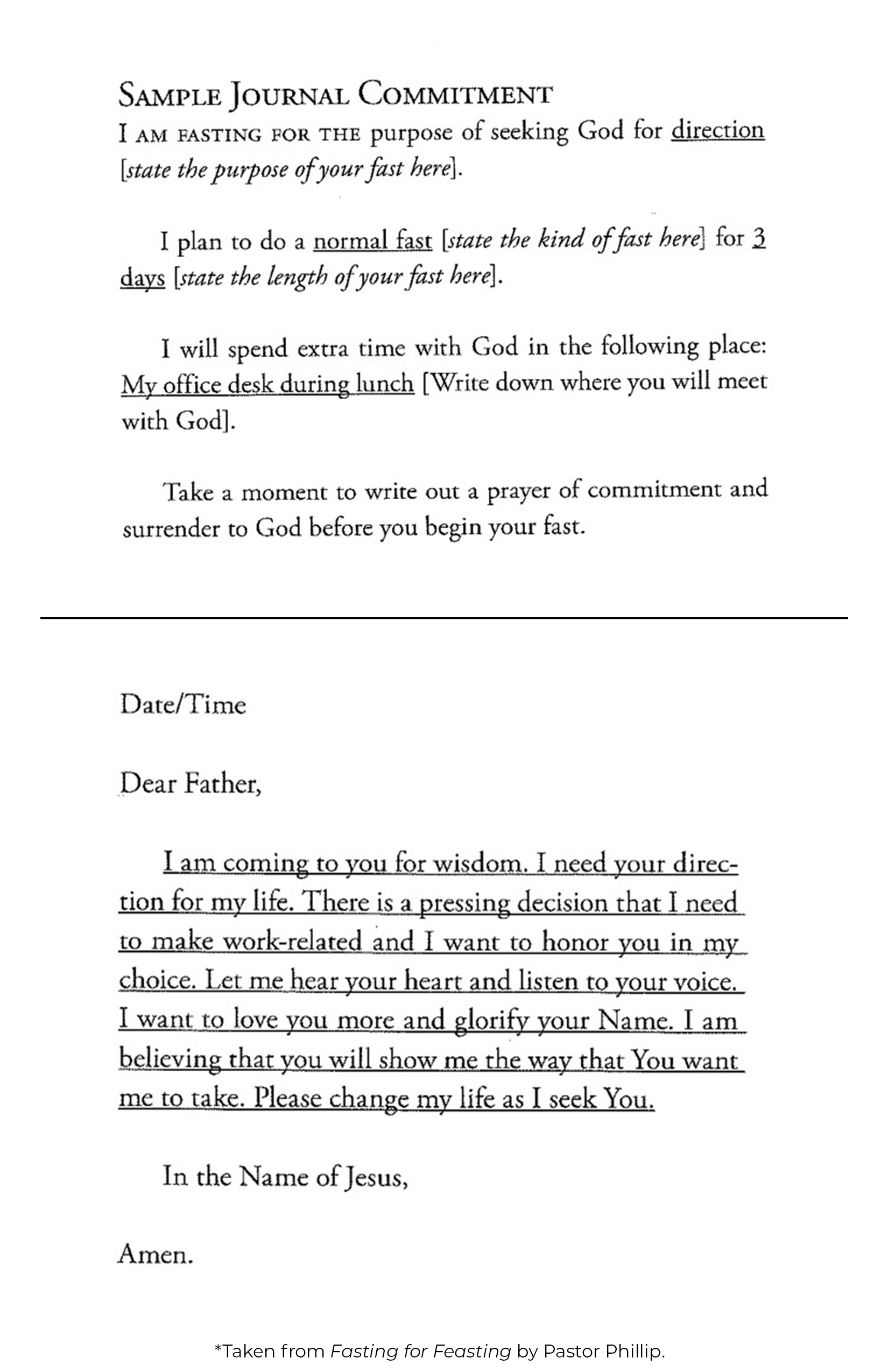 Prayer Guide
February 17-April 4, 2021
"He must increase; I must decrease." John 3:30
PERSONAL PRAYER
"I am the vine; you are the branches. If you remain in me and I in you, you will bear much fruit; apart from me you can do nothing." John 15:5
1. Acknowledge God as the source of your life and salvation. Take a moment to read and pray through James 4:7-10. Thank Him for the cross and for the forgiveness of sins because of Christ. Confess your sins to God and ask Him to cleanse you of areas in your heart that you know are keeping you from walking in spiritual victory. Whatever burden you may have or stronghold in your life, surrender this to Christ in this time of prayer.
2. Ask that the fruit of the Spirit would be exhibited and seen in your life and relationships. Take a moment to read and pray through Galatians 5:22-26. Pray specifically, fruit by fruit, that the love, joy, peace, patience, kindness, goodness, gentleness, faithfulness, and self-control of the Spirit would be obvious in all that you say and do.

FIRST BAPTIST CHURCH MOUNT JULIET
1. Ask that God would fill us with His Spirit as a Church. His presence is already in the life of every believer, but we are commanded to be continually filled with His Spirit (Ephesians 5:18). This requires daily surrender and commitment to the purposes of God for our lives. Ask God to give us a heart of expectation on Sundays as we gather together as His people.
2. Ask God to honor His Name through the ministry of First Baptist. In the same way that Christ said that He glorified His heavenly Father by His life on earth (John 17:1-5), so let us seek to honor the name of God in the same way. Take time to read Matthew 6:9-15 and pray through the ways that Jesus teaches us in this passage. Pray that we would be Jesus people who praise and honor His name in our community.
3. Pray that God would give us continued clarity of vision and unity of heart. As we continue to seek God's heart, let us pray that we would follow God's direction, and that He would reveal His plans in a very clear and compelling way. Ask God to fill our hearts with love toward one another. Remember the words of Jesus, "A new command I give you: Love one another. As I have loved you, so you must love one another. By this everyone will know that you are My disciples, if you love one another." (John 13:34-35)
4. Pray for these specific needs we have at this time. Take a few minutes to read and pray through John 16.
Pray for God's hand to be upon us as we move forward in faith.
Pray for David Gay, our Project Manager, as he leads us in this project.
Ask God to continue to provide the funds needed through our ongoing Capital Campaign commitments.
Pray for the construction work that will take place on our campus over the next several months; for the rebuilding due to the tornado; for the future-minded construction of new facilities to build His kingdom; for all engineers, contractors, and crews that will have a hand in this project.
Pray for Brig Thompson, faculty, staff, and students of MJCA as they launch The Legacy Continues Campaign.
Ask God to bless our Small Groups and raise up additional Small Group Leaders to fill the needs we have.
Pray for your Pastor, Ministry Team, their families, and all in leadership to have wisdom moving forward, to feel the prayer and support of their church family, and to faithfully lead us.
COMMUNITY, NATION, AND MISSIONS
1. Pray for our community, state, and national leaders. Take a moment to read and pray through 1 Timothy 2:1-2. Pray for our elected officials at all levels to be used by God.
2. Pray for the harvest, and that God will raise up laborers for the harvest. We want to see a movement of people come to saving faith in Christ in Mt. Juliet and this region! Take a moment and read through Matthew 9:37-38.
3. Pray for the ministries and mission partnerships of First Baptist. Ask for directions and favor in reaching our community of Mt. Juliet, MJCA, Rutland Place, orphan care, and other local efforts. Pray for the Mappila people, along with Pradeep and Manoj, the students we are supporting, as we begin to reach this unreached people group.
4. Praise God for His faithfulness to His Church! We are indeed blessed as His people. He has been so faithful. Let's express our worship to Him. Take a moment to praise God.
5. Pray for our nation to return back to God. Pray that God would give us wisdom and healing as a nation that is divided over race, politics, and so many other issues.
Fasting for Feasting with Dr. Phillip Dunn
Lesson 1- What is Fasting?
Lesson 2- A Biblical Overview of Fasting: Part 1
Lesson 2- A Biblical Overview of Fasting: Part 2
Lesson 3- The Five Purposes of Fasting
Lesson 4- How To Get Started and Commonly Asked Questions