OASIS Smoky Mountains Christmas Conference
November 15, 2020 12:00am
Contact: David Fallin e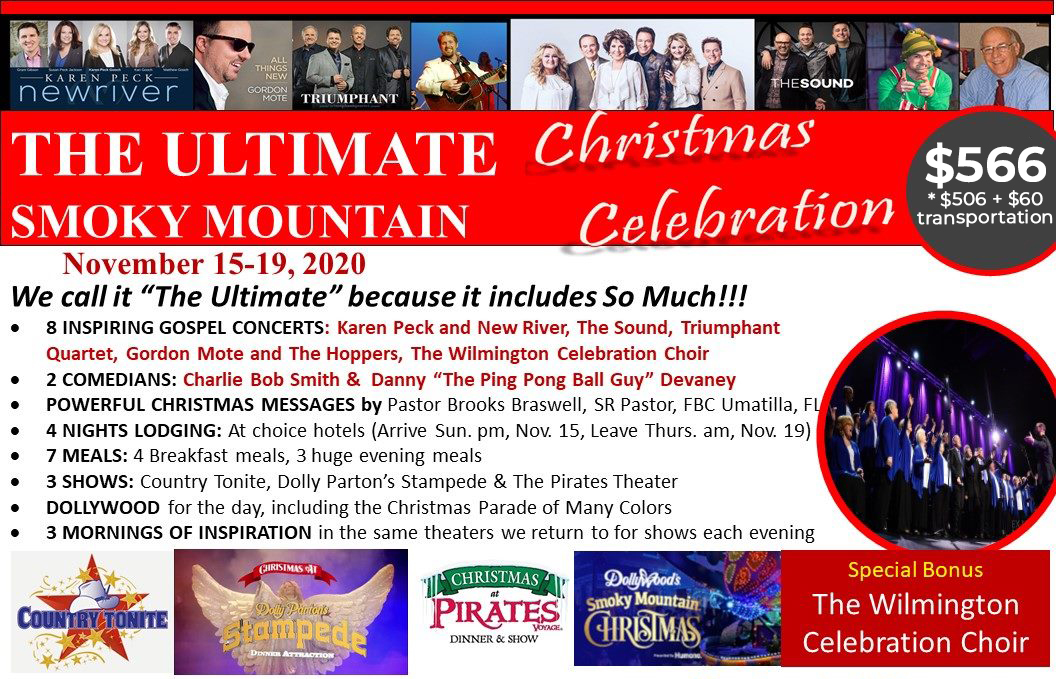 Registration is open for anyone who would like to join our OASIS ministry for a road trip this Nov. 15-19 to Pigeon Forge, TN. We will be leaving on Sunday afternoon, Nov. 15, and returning on Thursday morning, Nov. 19. We will stay at a deluxe hotel (County Cascades) for four nights. Each morning of our conference we will meet at one of the theatres in Pigeon Forge for our inspirational services including great singing, comedy, and preaching by leading SBC pastors. We will also enjoy the Christmas lights in Pigeon Forge and Dollywood which are turned on the weekend we arrive. In the evenings we will enjoy Country Tonight Theatre, Christmas at Pirate's Dinner & Show, & Christmas at Dolly Parton's Dinner & Stampede. On Wednesday we enjoy a day at Dollywood as we take in all the Christmas shows and enjoy the Christmas lights and Christmas Parade of Many Colors. Each theatre will provide plenty of seats for social distancing.
The cost of this year's conference is $506 per person plus $60 @ for transportation on a comfortable tour bus. Please register by turning in your $100 deposit to hold your hotel room (based on double occupancy) before the end of July. The balance will be due by the end of September. Refunds are available up until 30 days before the event.
Please make your check out to First Baptist Church, Mt. Juliet and be sure to include "Smoky Mtn. Christmas" in the subscript. You may drop off your check at our interim church office Monday - Thursday 8am-4pm (2033 N. Mt. Juliet Rd.) or mail it to First Baptist Church % OASIS Ministry, 735 N. Mt. Juliet Rd., Mt. Juliet, TN 37122.
Be sure to include your email address, home address, and phone numbers with your deposit so we can communicate with you about the trip details.