Christian Life University
Ever feel like there is a topic that you wish you could learn more about? Something that you wish you could just dig into more? Our Wednesday Nights are built just for that! We have four sessions of Christian Life University (CLU) classes each year — two in the fall and two in the spring. Each time we have totally different classes to choose from. It's all about equipping you with the tools you need to live a more victorious and vibrant Christian life.
Winter Session began
Wednesday, January 10th @ 6pm
True Woman 101 - Divine Design: A Study on Biblical Womanhood
Ladies Study led by Patti Webb
8 sessions
Workbook cost: $20
Room: ADM 209
This study provides something every modern woman needs: a wake-up call and practical help to discover the beauty, joy, and fulfillment of being exactly who God created you to be, rather than a woman of our culture.
Dig into the heart of true manhood and womanhood, and discover the beauty, joy, and fulfillment of being exactly who God created you to be. If you're tired of clichéd advice, shallow caricatures, and cookie-cutter solutions—then this Bible study is for you. In this study by Mary A. Kassian and Nancy Leigh DeMoss Wolgemuth you will discover foundational teaching and insight from God's Word.
Each week in this study is divided into five lessons. It will take approximately twenty minutes to complete each lesson. This study will challenge you to grow in fresh new ways.
First Peter: Living as Strangers In a Secular World
Led by Pastor David Fallin
6 sessions
Workbook cost: $8
Room: ADM 205
In the first century, Gentile believers were suffering and facing persecution because of their faith in Jesus. Peter wrote a letter to remind them that their heavenly hope and eternal inheritance outweighed anything faced in this life. He encouraged them to live holy lives motivated by love.
The message delivered by Peter has great relevance for today, as more pressure is being exerted on believers around the world. This study will be a source of encouragement to believers facing this increasing pressure, reminding them that they are foreigners in a distant land and that one day they will gain the privileges of their heavenly citizenship.
Perfect Ending: Why Your Eternal Future Matters Today
Co-ed
Led by Regis Galbach
12 sessions
No cost
Room: ADM 219

This class will view a series of messages from Dr. Robert Jeffress, pastor of First Baptist Church of Dallas, Texas. Dr. Jeffress says, "we may not know when Christ will return, but the Bible offers many details about what the end times look like. Understanding these biblical prophecies not only gives us greater peace about the future, it draws us to God in the present."
Strengthen your biblical knowledge and your spiritual life through this look at the future God promises for every follower of Christ.
This 12-session study will begin in the winter CLU session and conclude during the spring CLU session.
Soar

: Are You Ready to Accept God's Power?
Men's Study
Led by Trevor Green and Richard Sumner
8 sessions
Cost: $11
Room: ADM 206
Weary of bland faith? Hungry for gravity-defying freedom that will empower a global advance of the cause of Christ? Discover the thrilling freedom of living in God's power. Spiritual power comes through the Holy Spirit. Yet for many, the gift of the Holy Spirit remains misunderstood, underappreciated, and underutilized. SOAR offers a breakthrough encounter with the person and purpose of the Holy Spirit. Isn't it time for you to SOAR in the power of God?
Men's pastor and church leader Kenny Luck says that the time is ripe for a movement showing the world the supernatural power of God because men are:
Saying "yes" to the Holy Spirit
Opening their lives to His work inside of them
Actively pursuing and partnering with the Holy Spirit
Releasing powerfully the ministry of the Holy Spirit to a waiting world
Spring Session begins
Wednesday, March 21 @ 6pm
For Women Only -- What You Need to Know about the Inner Lives of Men
Led by Cookie Hays
___ Sessions
Cost: TBD
The man in your life carries important feelings so deep inside he barely knows they're there, much less how to talk about them. Yet your man genuinely wants you to "get" him—to understand his inner life, to know his fears and needs, to hear what he wishes he could tell you.

In her landmark bestseller, For Women Only, Shaunti Feldhahn reveals what every woman—single or married—needs to know. Based on rigorous research with thousands of men, Shaunti delivers one eye-opening revelation after another, including:
• Why your respect means more to him than your love.
• How he feels deep inside about his role as provider.
• What it means for a man to be so visually "wired."
• Why sex for him is primarily emotional, not physical.
• What he most wishes he could say to you.

Now, in this expanded and updated edition, you'll find insights from the latest brain research plus an all-new chapter that shows what's really going on when he seems to "check out." (You'll be surprised and pleased.)
Millions worldwide have experienced dramatic change in their relationships because of the "aha" moments and practical ideas in this little book. Discover how to love your man for who he really is.
Christ-Centered Parenting -- Gospel Conversations on Complex Cultural Issues
Led by Jennifer Eck & Kristen Randall
6 Sessions
Cost: $15
Do you ever feel ill equipped to talk about the cultural issues of our day? Designed to help you lead your children and teens in a confident and responsible way, this 6-session resource will equip you to address pressing cultural topics which children of all ages, from preschoolers through young adults, face, including:
Gender issues
Suicide, depression, and anxiety
Pornography
Addiction and coping mechanisms
Same-sex marriage
Singleness, dating, marriage, and divorce
Give your kids a biblical worldview that will produce the next generation of culture shapers—not simply the next generation shaped by their culture.
Register for Christ-Centered Parenting
Friendship (Men's study) -- Transform Through Strong Relationships
Led by Richard Sumner & Trevor Green
8 Sessions
Cost: $9
Friendship: Transform Through Strong Relationships is a men's Bible study by Kenny Luck. God's Word is clear about the importance of godly friendships — and how God designs them to complete us spiritually. If you ever hope to win the battles you face in your spiritual journey, you must be connected to godly men. The problem is that many men today act as if they don't need friends — and they're paying the price. Risking relationships is not easy for men, but it's non-negotiable for God's man. When you stand with others who share your spiritual goals, you achieve them faster. That's God's way. Godly friendships create consistency, provide care and support, stimulate healthy confession, produce new connections, and make you complete in Christ. They produce positive changes in your character, convictions, conduct, and commitment to do life God's way.
Learn how to build and benefit from friendships with godly men.
Practical studies—facilitate personal encounters with God and other men
Counters the effects of isolation in the lives of men
Helps men in the crucial area of building strong relationships—an area of deficiency for many men
Register for Friendship (Wednesday)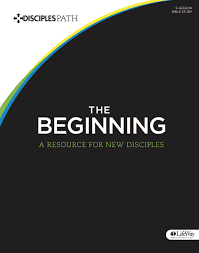 The Beginning: First Steps for New Disciples
Beginning Wednesday, March 21, 6pm
Led by Jud Hays
5 sessions
Cost of Workbook: $6
The Beginning is a Bible study for new disciples of Christ that introduces the basic practices and elements of the faith. This resource includes discussion questions and group exercises every week to reinforce the primary teaching points of each topic. Individual study and out-of-group activities have all been crafted with a new believer's spiritual maturity and commitment level in mind. These optional activities include but are not limited to reading plans, prayer exercises, personal study, and journaling.
Sessions:
What Just Happened to Me? (Basics of salvation and what it means to live as a follower of Jesus.)
The Centrality of Christ (Forming a Christian worldview around the person and work of Jesus.)
Time with Jesus (The disciplines of prayer and Scripture reading.)
The Church (Basic understanding of community in the context of the local and universal church.)
The Mission (Introduction to our mission and responsibilities in the world as followers of Christ.)
All costs are optional.
Please do not allow this to keep you from participating.